The AWC Cares Scholarship Program
This scholarship program was established by AWC Cares for aspiring young people of faith desiring to complete a college education. This scholarship will award $1,000 to one or more graduating seniors who:
1) Achieve scholastically;
2) Demonstrate a passion for community involvement;
3) Faithfully serve a place of worship; and
4) Aspire to complete a two-year or four-year college degree.
AWC Cares was founded in 2019 as a charitable entity of Augusta Worship Center (AWC), CLGI to provide the community with much-needed resources. The overarching belief was that the community surrounding the church needed assistance in many areas including the gospel. The founding of AWC Cares was a message to the surrounding community that, "We see you, and we care."
AWC Cares extends assistance to children and families through Outreach, Food Pantry, Scholarships, and Ministries to enable them to achieve their full potential. We provide this stewardship through strategic partnerships with organizations and individuals who value making a difference. Our vision is to "Change the world through one act of kindness at a time."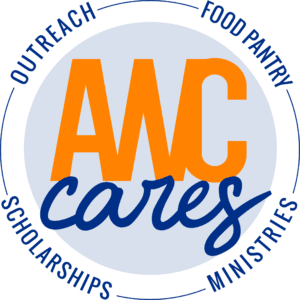 A high school student who is a graduating senior and have confirmed that they will attend a two-year or four-year college or university. The student must take the SAT or ACT exam.
How does a student apply for the AWC Cares Scholarship Program?
To apply for the AWC Cares Scholarship, complete the AWC Cares Scholarship Form and submit by March 31.
How are scholarship recipients selected?
Scholarship recipients will be selected by the AWC Cares Scholarship Selection Board. The Scholarship Selection Board (SSB) will only evaluate applications submitted before the deadline and information submitted by the candidates in their scholarship applications. The SSB will compare candidates in the following areas with the weighted scoring:
Academic Performance
Students are graded on their grade point average, SAT/ACT scores, school club participation, and extra-curricular activities. A student's academic performance score is adjusted based on difficulty of courses, course load and the depth/breadth of subjects studied, and honors/advanced placement courses.
Community Involvement
Students are evaluated on community service. Submissions should include community service participation between 9th and 12th grade. More points are awarded for a broad range of community service that helped others in need and for holding leadership roles in these endeavors.
Dedication to a Place of Worship
Students are evaluated on their faithfulness in places of worship. Faithfulness can include but is not limited to attendance, leading worship/praise services, serving as musicians or vocalist, devoting time as a youth leader, and planning activities or programs for young people of faith. More points will be awarded to students who submit letters from their pastors or church staff members confirming such participation.
Essay
Students will submit a brief essay on a selected topic. Essays are judged on writing skills, appropriateness of writing to the topic, grammar, and thoroughness of writing and research.
Scholarship winners are selected based on their potential for success in rigorous college studies and their ability to impact the community and place of worship during and after graduation. Students are selected without regard to gender, race, ethnic origin, or family financial circumstances.
Who selects the scholarship recipients?
The AWC Cares Scholarship Selection Board (SSB) makes the selection of scholarship recipients. The SSB is comprised of professionals from a cross section of academia, industry, and faith-based organizations. The SSB members will identify conflict(s) of interests that involve personal or business relationship with a candidate or candidate's family that would preclude them from making an impartial decision or give the appearance of impropriety or unfair dealing. The SSB members will notify the chair at least 10 days before the SSB meets to allow reasonable time to select a replacement.
When are scholarships awarded?
The AWC Cares Scholarship Selection Board (SSB) will notify winners on or before May 31. All students who submit a scholarship application will be notified of SSB's decision by mid-June.
What is the amount of the award?
Each AWC Cares Scholarship is $1,000. Checks are mailed or presented to recipient(s) on or before July 15.
What are the requirements?
Each scholarship recipient is expected to enroll in a two-year or four-year university and complete at least one semester following their selection.
Who handles scholarship procedures?
All phases of the scholarship application and selection are handled by the AWC Scholarship Selection Board.
Who do I contact with questions?
To complete the online application, select below.
Application Deadline - March 31, 2023